Mazda 2: Bonnet
WARNING
Always check that the bonnet is closed and securely locked: A bonnet that is not closed and securely locked is dangerous as it could fl y open while the vehicle is moving and block the driver's vision which could result in a serious accident.
Opening the Bonnet
With the vehicle parked, pull the release handle to unlock the bonnet.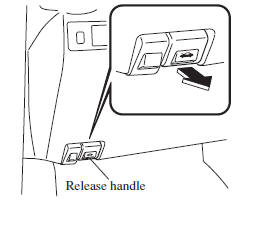 Insert your hand into the bonnet opening, slide the latch lever to the right, and lift up the bonnet.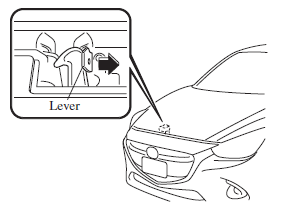 Grasp the support rod in the padded area and secure it in the support rod hole indicated by the arrow to hold the bonnet open.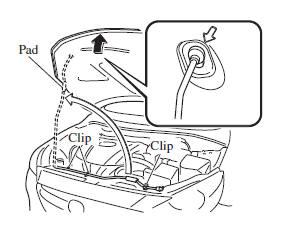 Closing the Bonnet
Check under the bonnet area to make certain all fi ller caps are in place and all loose items (e.g. tools, oil containers, etc.) have been removed.
Lift the bonnet, grasp the padded area on the support rod, and secure the support rod in the clip. Verify that the support rod is secured in the clip before closing the bonnet.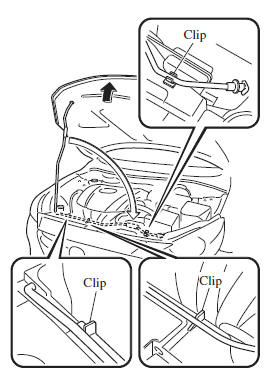 Lower the bonnet slowly to a height of about 20 cm (7.9 in) above its closed position and then let it drop.
CAUTION
When closing the bonnet, do not push it excessively such as by applying your weight. Otherwise, the bonnet could be deformed.
READ NEXT:
SKYACTIV-G 1.3 and SKYACTIV-G 1.5 SKYACTIV-D 1.5
NOTE Changing the engine oil should be done by an expert repairer, we recommend an Authorised Mazda Repairer. Recommended Oil In order to keep the maintenance interval (page 6-3 ) and to protect
Inspecting Coolant Level WARNING Do not use a match or live fl ame in the engine compartment. DO NOT ADD COOLANT WHEN THE ENGINE IS HOT: A hot engine is dangerous. If the engine has been runnin
SEE MORE:
Fuel Requirements (SKYACTIV-G 1.3, SKYACTIV-G 1.5) Vehicles with catalytic converters or oxygen sensors must use ONLY UNLEADED FUEL, which will reduce exhaust emissions and keep spark plug fouling to a minimum. The vehicle will perform best with fuel listed in the table. Fuel Resea
CAUTION: Perform the following on-board diagnosis according to FOREWORD [MULTIPLEX COMMUNICATION SYSTEM] troubleshooting procedure. Detection Condition Possible causes of communication errors between the M-MDS and vehicle include communication circuit interruption due to an open circuit i
© 2016-2023 Copyright www.ma2auto.com