Mazda 2: i-ELOOP
i-ELOOP is a regenerative braking system. When you depress the brake pedal or use engine braking, the kinetic energy that occurs is converted to electrical energy by the power generator and the converted electrical energy is stored in the storage device. The stored electricity is used as power to charge the battery and the vehicle's electrical devices.
A variable voltage alternator is incorporated in the power generator which converts the kinetic energy to electricity and can generate electricity effi ciently according to the vehicle conditions.
A capacitor is incorporated in the storage device used for storing the generated electricity, which can store large amounts of electricity instantly and be utilized quickly.
A DC-DC converter is incorporated which steps down the stored electricity to voltage useable by the vehicle's electrical devices.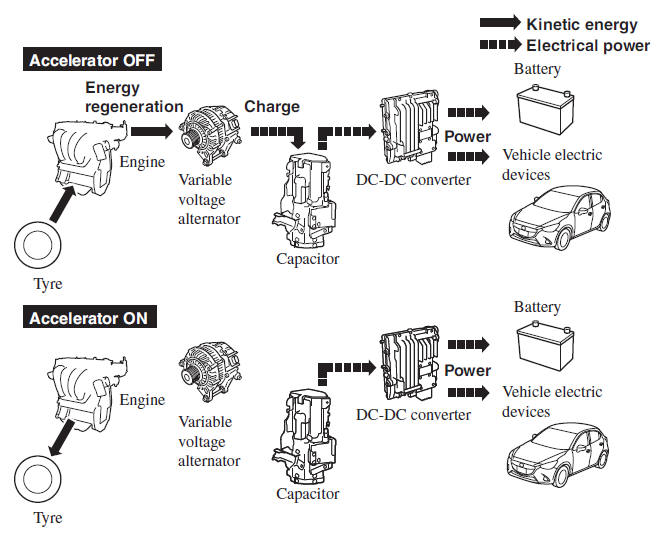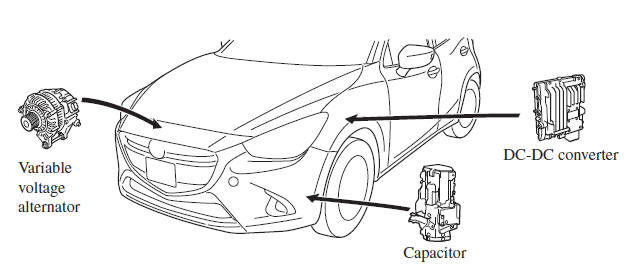 CAUTION
High-current electricity fl ows through the following parts, therefore do not touch them.
Variable voltage alternator
DC-DC converter
Capacitor
NOTE
A difference in the fuel economy may occur depending on how the vehicle's electrical devices are used.
If the capacitor is to be disposed of, always consult an expert repairer, we recommend an Authorised Mazda Repairer.

For details, go to the following URL.

http://www.mazda.com/csr/environment/recycling
i-ELOOP Indicator Light/Control Status Display
The driver is notifi ed of the i-ELOOP power generating status and the vehicle conditions by the i-ELOOP indicator light (green) and the control status display.
i-ELOOP Indicator Light (Green) (vehicle without type C/type D audio)

The light turns on during power
generation.
Control status display (vehicles with type C/type D audio)
The i-ELOOP power generating status is displayed in the centre display.
Refer to Control Status Display on page 4-90 .
READ NEXT:
For vehicles with type C/type D audio, the Control Status, Fuel Consumption, and Effectiveness are switched and displayed by operating each icon in the display. In addition, after completing a t
Drive selection is a system to switch the vehicle's drive mode. When the sport mode is selected, vehicle's response against accelerator operation is enhanced. Use the sport mode when higher vehi
Power steering is only operable when the engine is running. If the engine is off or if the power steering system is inoperable, you can still steer, but it requires more physical effort. &
SEE MORE:
The ignition must be switched ON and the headlights must be turned on. The headlight washers operate automatically once every fi fth time the windscreen washer operates. If you want to operate headlight washers, double fl ick the wiper lever. NOTE If air enters the headlight washer f
CRANKSHAFT POSITION (CKP) SENSOR REMOVAL/INSTALLATION CAUTION: When replacing the CKP sensor, make sure there is no foreign material on it such as metal shavings. If it is installed with foreign material, the sensor output signal will malfunction resulting from fluctuation in magnetic flux a
© 2016-2023 Copyright www.ma2auto.com