Mazda 2: Electromagnetic Compatibility
Your Mazda has been tested and certifi ed to the UNECE *1 10 regulation as related to electromagnetic compatibility. Radio Frequency (RF) transmitter equipment (e.g. cellular telephones, amateur radio transmitters, etc.) may only be fi tted to your Mazda if they comply with the parameters shown in the table below.
*1 UNECE stands for United Nations Economic Commission for Europe.
It is your responsibility to ensure that any equipment you have fi tted complies with applicable local legislations. Have any equipment fi tted by properly trained technicians.
CAUTION
Do not mount any transceiver, microphones, speakers, or any other item in the deployment path of the air bag system.
Do not fasten aerial lead to original vehicle wiring, fuel pipes or brake pipes. Avoid running the aerial lead parallel with the wire harness to the best extent possible.
Keep the aerial and power leads at least 100 mm (3.9 in) from any electronic modules and the air bags.
Avoid using the cigar lighter or accessory socket as a power source for the RFtransmitting equipment.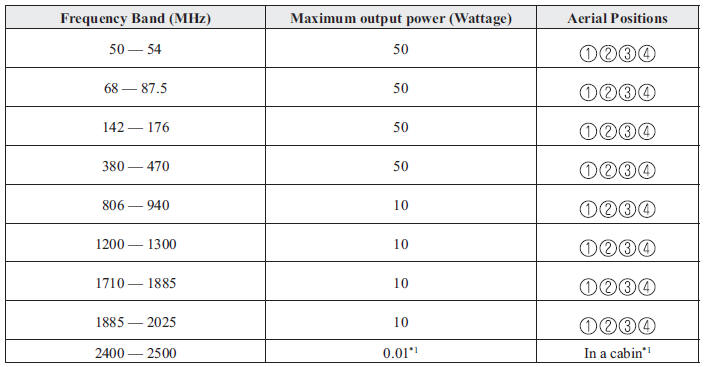 *1 Only for Bluetooth ®
NOTE
After the installation of RF transmitters, check for disturbances from and to all electrical equipment in the vehicle, both in the standby and transmit modes.
Check all electrical equipment:
with the ignition ON
with the engine running
during a road test at various speeds.
READ NEXT:
Information for Users on Collection and Disposal of Old Equipment and Used Batteries When disposing your old battery, please refer to the information as follows. Information on Disposal in the Euro
Technical information about your Mazda.
Vehicle Information Labels Vehicle Identifi cation Number (South Africa, Arab Gulf Cooperation Council) The vehicle identifi cation number legally identifi es your vehicle. The number is on a pl
SEE MORE:
PCM INSPECTION CAUTION: Water or foreign objects entering the connector can cause a poor connection or corrosion. Be sure not to drop water or foreign objects on the connector when disconnecting it. NOTE: The PCM terminal voltage can vary with conditions when measuring and changes due t
Information for Users on Collection and Disposal of Old Equipment and Used Batteries When disposing your old battery, please refer to the information as follows. Information on Disposal in the European Union These crossed-out wheeled bin symbols on the products, packaging, and/or accompanying
© 2016-2023 Copyright www.ma2auto.com