Mazda 2: Operational Range
The system operates only when the driver is in the vehicle or within operational range while the key is being carried.
NOTE
When the battery power is low, or in places where there are high-intensity radio waves or noise, the operational range may become narrower or the system may not operate. For determining battery replacement, Refer to Keyless Entry System on page 3-3 .
Locking, Unlocking the Doors and the Liftgate/Boot Lid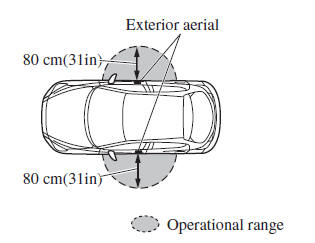 NOTE
The system may not operate if you are too close to the windows or door handles, or liftgate/boot lid.
Opening the Liftgate/Boot Lid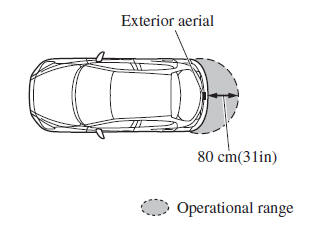 READ NEXT:
WARNING Always take all children and pets with you or leave a responsible person with them: Leaving a child or a pet unattended in a parked vehicle is dangerous. In hot weather, temperatures ins
WARNING Never allow a person to ride in the luggage compartment/boot: Allowing a person to ride in the luggage compartment/boot is dangerous. The person in the luggage compartment/boot could be
SEE MORE:
System Malfunction Location Detection Condition WARNING: Detection conditions are for understanding the DTC outline before performing an inspection. Performing an inspection according to only the detection conditions may cause injury due to an operating error, or damage the system. When p
MASTER CYLINDER REMOVAL/INSTALLATION CAUTION: When removing/installing the master cylinder, avoid touching the primary piston with your hand when not necessary. Otherwise, it could damage the master cylinder. 1. Remove the battery. (See BATTERY REMOVAL/INSTALLATION). 2. Remove in the order i
© 2016-2023 Copyright www.ma2auto.com