Mazda 2: Window and Headlight Washer Fluid
Inspecting Washer Fluid Level
WARNING
Use only windscreen washer fl uid or plain water in the reservoir: Using radiator antifreeze as washer fl uid is dangerous. If sprayed on the windscreen, it will dirty the windscreen, affect your visibility, and could result in an accident.
Inspect fl uid level in the washer fl uid reservoir; add fl uid if necessary.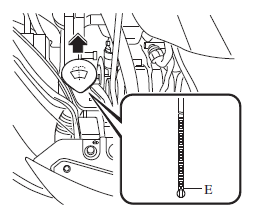 Use plain water if washer fl uid is unavailable.
But use only washer fl uid in cold weather to prevent it from freezing.
NOTE
Front and rear washer fl uid is supplied from the same reservoir.
READ NEXT:
All moving points of the body, such as door and bonnet hinges and locks, should be lubricated each time the engine oil is changed. Use a nonfreezing lubricant on locks during cold weather. Make
CAUTION Hot waxes applied by automatic car washers have been known to affect the wiper's ability to clean windows. To prevent damage to the wiper blades, do not use petrol, paraffi n, paint thin
WARNING Read the following precautions carefully before using the battery or inspecting to ensure safe and correct handling: Always wear eye protection when working near the battery: Working w
SEE MORE:
IGNITION SYSTEM LOCATION INDEX Ignition coil (See IGNITION COIL REMOVAL/INSTALLATION) (See IGNITION COIL INSPECTION) Spark plug (See SPARK PLUG REMOVAL/INSTALLATION) (See SPARK PLUG INSPECTION) IGNITION COIL REMOVAL/INSTALLATION 1. Disconnect the negative battery cable. CAUTION:
Cell Phones Warning WARNING Please comply with the legal regulations concerning the use of communication equipment in vehicles in your country: Use of any electrical devices such as cell phones, computers, portable radios, vehicle navigation or other devices by the driver while the vehicle
© 2016-2023 Copyright www.ma2auto.com