Mazda 2: Headlight Washer
The ignition must be switched ON and the headlights must be turned on.
The headlight washers operate automatically once every fi fth time the windscreen washer operates.
If you want to operate headlight washers, double fl ick the wiper lever.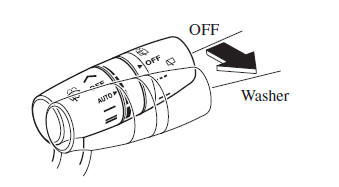 NOTE
If air enters the headlight washer fl uid pipe under conditions such as when the vehicle is brand-new or after an empty washer tank is replenished with washer fl uid, washer fl uid will not spray even when the wiper lever is operated.
If this occurs, perform the following procedure:
Start the engine.
Turn on the headlights.
Double fl ick the wiper lever several times until the washer fl uid sprays.
READ NEXT:
The rear window defogger clears fog from the rear window. The ignition must be switched ON to use the defogger. Press the switch to turn on the rear window defogger. The rear window defogger
The hazard warning lights should always be used when you stop on or near a roadway in an emergency. The hazard warning lights warn other drivers that your vehicle is a traffi c hazard and tha
SEE MORE:
TRANSAXLE FLUID TEMPERATURE (TFT) SENSOR INSPECTION CAUTION: Water or foreign objects entering the connector can cause a poor connection or corrosion. Be sure not to drop water or foreign objects on the connector when disconnecting it. On-Vehicle Inspection 1. Disconnect the coupler compone
The Rear Cross Traffi c Alert (RCTA) system is designed to assist the driver in checking the area to the rear of the vehicle on both sides while the vehicle is reversing by alerting the driver to the presence of vehicles approaching the rear of the vehicle. The Rear Cross Traffi c Alert (RC
© 2016-2023 Copyright www.ma2auto.com