Mazda 2: Removable Ashtray
The removable ashtray can be fi xed and used in either of the front cup holders.
WARNING
Only use the removable ashtray in its fi xed position, and make sure it is completely inserted: Using an ashtray removed from its fi xed position or not completely inserted is dangerous. Cigarettes could roll around or spill out of the ashtray into the vehicle and start a fi re. Moreover, cigarette stubs will not extinguish themselves completely even if the ashtray lid is closed.
CAUTION
Do not use the ashtray for rubbish. You might start a fi re.
To remove the ashtray, pull it upward.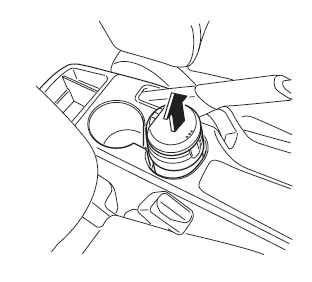 READ NEXT:
How to keep your Mazda in top condition.
Introduction Be extremely careful and prevent injury to yourself and others or damage to your vehicle when using this manual for inspection and maintenance. If you are unsure about any procedur
SEE MORE:
CANISTER VENT (CV) SOLENOID VALVE REMOVAL/INSTALLATION 1. Disconnect the negative battery cable. (See BATTERY REMOVAL/INSTALLATION). 2. Remove in the order indicated in the table. CV solenoid valve connector Evaporative hose Evaporative hose CV solenoid valve 3. Install in the reverse order
DRIVE PLATE REMOVAL/INSTALLATION 1. Remove the transaxle. (See AUTOMATIC TRANSAXLE REMOVAL/INSTALLATION). 2. Remove in the order indicated in the table. 3. Install in the reverse order of removal. Drive plate installation bolts Adapter Drive plate Drive Plate Installation Bolts Removal Note
© 2016-2023 Copyright www.ma2auto.com