Mazda 2: DTC B1126:11/B1126:12/B1126:13/B1126:19/B1126:1A
System Malfunction Location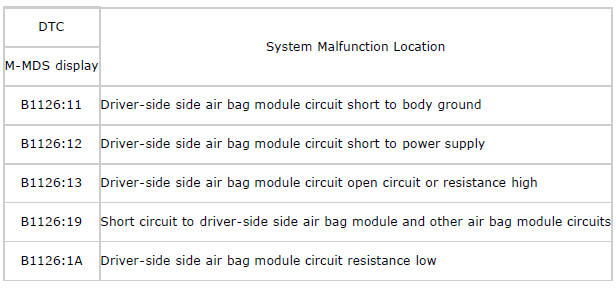 Detection Condition
WARNING:
Detection conditions are for understanding the DTC outline before performing an inspection. Performing an inspection according to only the detection conditions may cause injury due to an operating error, or damage the system. When performing an inspection, always follow the inspection procedure.
Resistance other than 1.54-8.27 ohms is detected in driver-side side air bag module circuit
Wiring harness between the driver-side side air bag module and SAS control module has a malfunction.
Possible Causes
Driver-side side air bag module connector malfunction
Open or short circuit in the wiring harness between the driver-side side air bag module and SAS control module
Driver-side side air bag module malfunction
SAS control module malfunction
System Wiring Diagram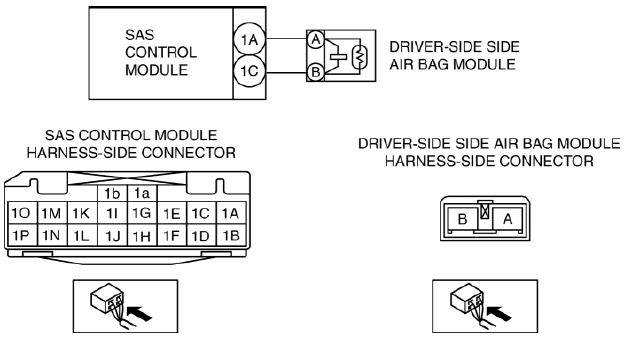 Diagnostic Procedure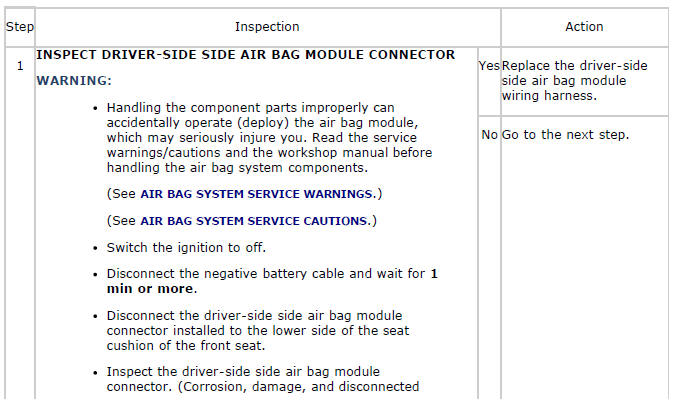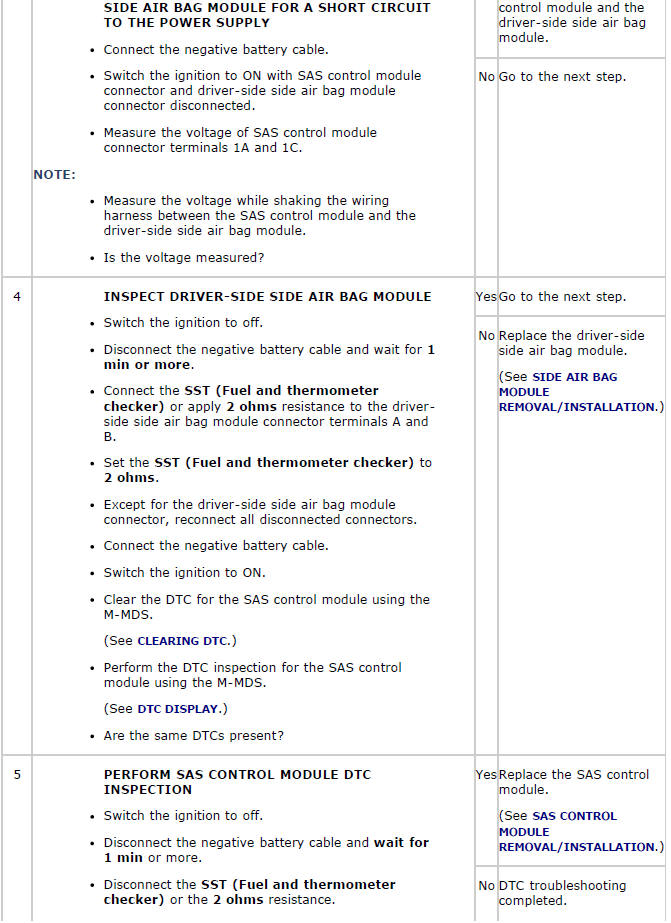 DTC B1126:55/B1127:55
System Malfunction Location

Detection Condition
WARNING:
Detection conditions are for understanding the DTC outline before performing an inspection. Performing an inspection according to only the detection conditions may cause injury due to an operating error, or damage the system. When performing an inspection, always follow the inspection procedure.
SAS control module configuration setting has not been done correctly
Possible Causes
SAS control module configuration setting not implemented
SAS control module configuration setting invalid
SAS control module malfunction
Diagnostic Procedure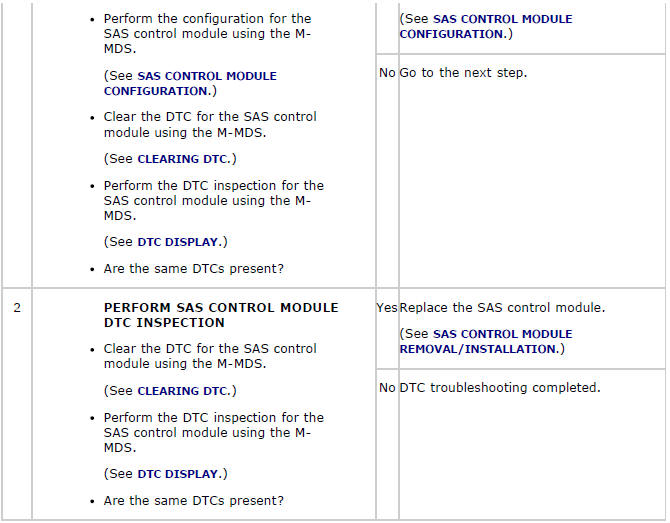 READ NEXT:
System Malfunction Location Detection Condition WARNING: Detection conditions are for understanding the DTC outline before performing an inspection. Performing an inspection according to only th
System Malfunction Location Detection Condition WARNING: Detection conditions are for understanding the DTC outline before performing an inspection. Performing an inspection according to only th
System Malfunction Location Detection Condition WARNING: Detection conditions are for understanding the DTC outline before performing an inspection. Performing an inspection according to only th
SEE MORE:
CAUTION Do not try starting the engine for more than 30 seconds at a time. Doing so, could damage the starter. If the engine does not start on the fi rst try wait about 10 seconds before trying again. If your vehicle runs out of fuel, add at least 10 L (2.6 US gal, 2.2 Imp gal) of fuel, and
Jacking Positions WARNING: Improperly jacking a vehicle is dangerous. The vehicle can slip off the jack and cause serious injury. Use only the correct front and rear jacking points and block the wheels. Use safety stands to support the vehicle after it has been lifted. Front NOTE: To preven
© 2016-2023 Copyright www.ma2auto.com