Mazda 2: Foreword
When the customer reports a vehicle malfunction, check the malfunction indicator lamp (MIL) indication and diagnostic trouble code (DTC), then diagnose the malfunction according to the following flowchart.

If a DTC exists, diagnose the applicable DTC inspection. (See DTC TABLE ).
If a DTC does not exist and the MIL does not illuminate or flash, diagnose the applicable symptom troubleshooting. (See QUICK DIAGNOSTIC CHART ).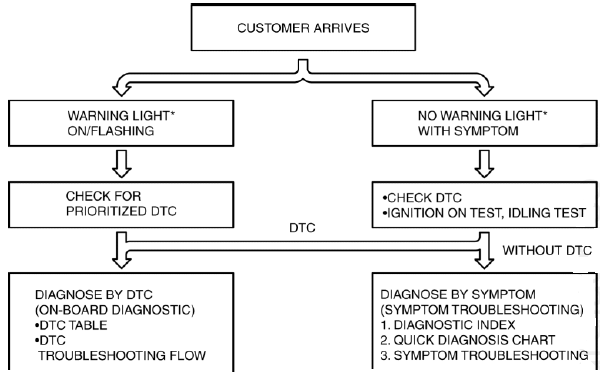 *: Malfunction Indicator Lamp (MIL), Generator Warning Light, Security Light
OBD-II PENDING TROUBLE CODE
These appear when a problem is detected in a monitored system. The code for a failed system is stored in the PCM memory in the first drive cycle. This code is called the pending code. If the PCM determines that the system has returned to normal or the problem was mistakenly detected, it deletes the pending code. If the problem is found in the second drive cycle, too the PCM determines that the system is malfunctioning, and the DTC is stored.
OBD-II FREEZE FRAME DATA
This is technical data which indicates the engine condition at the time of the first malfunction. This data will remain in the memory even if another emission-related DTC is stored, with the exception of the Misfire or Fuel System DTCs. Once FREEZE FRAME DATA for the Misfire or Fuel System DTC is stored, it will overwrite any previous data and the FREEZE FRAME DATA will not be overwritten again.
OBD-II ON-BOARD SYSTEM READINESS TEST
This shows the OBD-II systems operating status. If any monitor function is incomplete, the M-MDS will identify which monitor function has not been completed. Misfires, Fuel System and Comprehensive Components (CCM) are continuous monitoring-type functions. The catalyst, EGR system, evaporation system and oxygen sensor will be monitored under drive cycles. The OBD-II diagnostic system is initialized by performing the DTC cancellation procedure or disconnecting the negative battery cable.
OBD-II READ/CLEAR DIAGNOSTIC TEST RESULTS
This retrieves all stored DTCs in the PCM and clears the DTC, FREEZE FRAME DATA, On-Board Readiness Test Results, Diagnostic Monitoring Test Results and Pending Trouble Codes.
OBD-II PARAMETER IDENTIFICATION (PID) ACCESS
The PID mode allows access to certain data values, analog and digital inputs and outputs, calculated values and system status information. Since PID values for output devices are PCM internal data values, inspect each device to identify which output devices are malfunctioning.
READ NEXT:
DTC Reading Procedure 1. Connect the M-MDS (IDS) to the DLC-2. 2. After the vehicle is identified, select the following items from the initialization screen of the IDS. Select "Self Test". Select
Using the OBD-II Drive Mode, the monitoring item requested by OBD-II regulations can be easily diagnosed. Performing the Drive Mode inspects the OBD-II system for proper operation and must be p
SEE MORE:
ELECTRIC POWER STEERING (EPS) SYSTEM WIRING DIAGRAM ELECTRIC POWER STEERING (EPS) ON-BOARD DIAGNOSIS On-Board Diagnostic (OBD) Test Description The OBD test inspects the integrity and function of the EPS and outputs the results when requested by the specific tests. On-board diagnostic test al
WARNING Never adjust the steering wheel while the vehicle is moving: Adjusting the steering wheel while the vehicle is moving is dangerous. Moving it can very easily cause the driver to abruptly turn to the left or right. This can lead to loss of control or an accident. Steering Wheel Adj
© 2016-2023 Copyright www.ma2auto.com