Mazda 2: Jacking Positions, Vehicle Lift (2 Supports) and Safety Stand (Rigid Rack) Positions
Jacking Positions
WARNING:
Improperly jacking a vehicle is dangerous. The vehicle can slip off the jack and cause serious injury. Use only the correct front and rear jacking points and block the wheels.
Use safety stands to support the vehicle after it has been lifted.
Front
NOTE:
To prevent obstruction between the jack body and front bumper when the jack body is inserted, use a low-floor type jack.
Near the center of the front suspension crossmember.
Rear
Near the center of the rear torsion beam.
Vehicle Lift Positions, Safety Stand Positions
Front and rear
WARNING:
CAUTION:
For vehicles with side step molding, be careful not to damage the side step molding by hitting it with auto-lift arms or a safety stand.
Do not use the spare tire storage space in the rear floor pan or the tie down hook area as a jack up point, otherwise the vehicle body could be damaged.
Both sides of the vehicle, on side sills.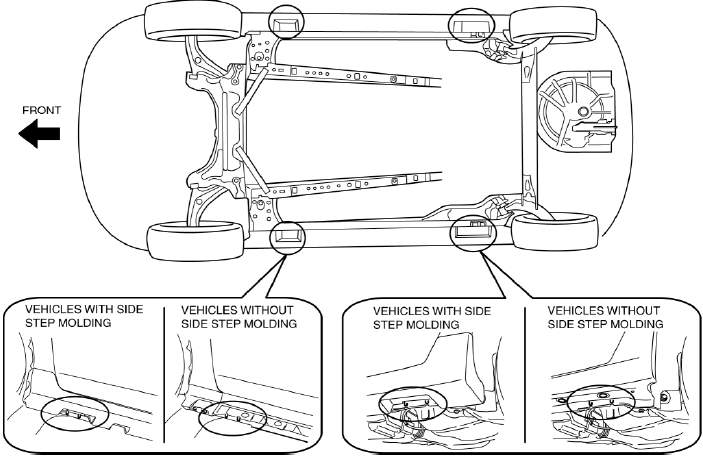 TOWING
Proper lifting and towing are necessary to prevent damage to the vehicle. Government and local laws must be followed.
A towed vehicle usually should have its drive wheels (front wheels) off the ground. If excessive damage or other conditions prevent this, use wheel dollies.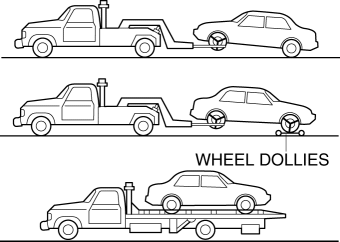 When towing with the rear wheels on the ground, release the parking brake.
CAUTION:
Don't tow the vehicle pointed backward with driving wheels on the ground. This may cause internal damage to the transaxle.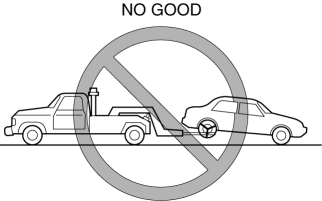 CAUTION:
Don't tow with sling-type equipment. This could damage your vehicle. Use wheel-lift or flatbed equipment.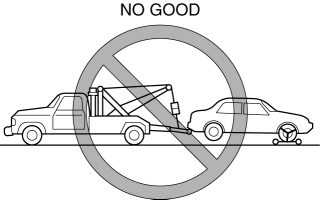 Vehicle Securing Position
When transporting the vehicle by flat bed tow truck or trailer, secure the vehicle to the trailer using the holes and left tiedown loop shown in the figure.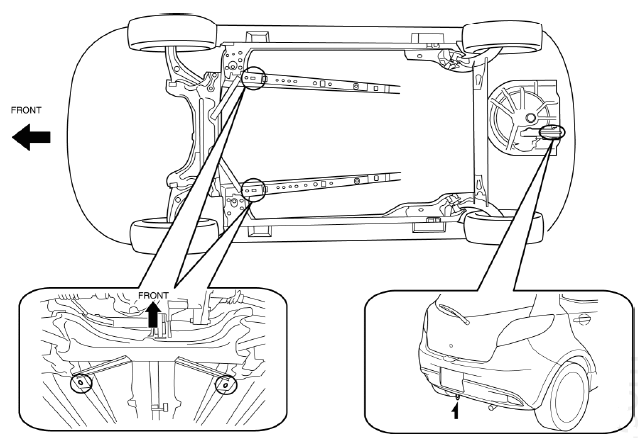 CAUTION:
Do not use the tie down hook on the end of the rear bumper for towing or transporting the vehicle. The tie down hook is used only for transporting the vehicle by ship. Using the tie down hook could cause damage to the bumper and the vehicle body.
READ NEXT:
Vehicle Identification Number (VIN) The VIN marking position is located on the floor on the front passenger-side. If the VIN plate is adhered to the dashboard, it is located in the position
Pre-Delivery Inspection Table Exterior INSPECT and ADJUST, if necessary, the following items to specification: Glass, exterior bright metal and paint for damage Wheel lug nuts All weatherstrips fo
Scheduled Maintenance Table for U.S.A., CANADA and Puerto Rico Schedule 1: (Normal Driving Conditions) for U.S.A. The vehicle is mainly operated where none of the "unique driving conditions" apply.
SEE MORE:
Audio can be heard from the vehicle's speakers by connecting a commerciallyavailable portable audio unit to the auxiliary jack. A commercially-available, non-impedance (3.5 ) stereo mini plug lead is required. Contact an expert repairer, we recommend an Authorised Mazda Repairer for detai
PCM INSPECTION CAUTION: Water or foreign objects entering the connector can cause a poor connection or corrosion. Be sure not to drop water or foreign objects on the connector when disconnecting it. NOTE: The PCM terminal voltage can vary with conditions when measuring and changes due t
© 2016-2023 Copyright www.ma2auto.com