Mazda 2: Reference [Radio]
1. Multipath Noise
Signals from an FM transmitter are a high frequency and similar to beams of light because they do not bend around corners, but they do reflect. Since FM signals can be reflected by obstructions, it is possible to receive both the direct signal and the reflected signal at the same time. This causes a slight delay in reception and may be heard as a broken sound or a distortion.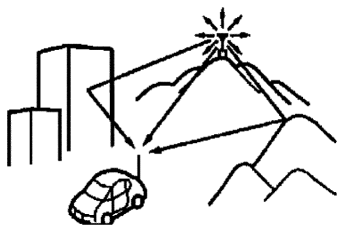 2. Flutter/Skip Noise
Signals become weak in valleys between mountains, tall buildings, and other obstacles.

When the vehicle passes through such an area, the reception conditions may change suddenly, resulting in annoying noise.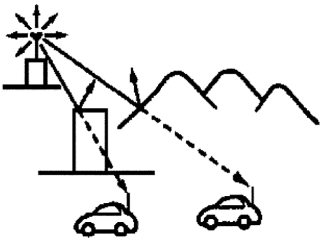 3. Stereo and Monaural Receptions
As signals become weak, noise may appear more in stereo reception. Compared to stereo reception, noise in monaural reception is relatively less striking.
Measures in Audio System
Separation control
Utilizing the characteristic of monaural reception that noise is relatively less striking than stereo reception, the audio system automatically changes the reception from stereo to monaural and lessens annoying noise when signals become weak or a multipath phenomenon occurs.
High tone control
When signals become weak or a multipath phenomenon occurs, the audio system restrains volume level in high frequency band and lessens annoying noise.

Remarks
Signals tend to reach longer distances at night. It is conspicuous in AM signals, several audio functions may stop due to foreign broadcasting station or noise. Though the audio system restrains sensitivity of SEEK and SCAN functions at night, the audio system may select other than desired broadcasting station when signals are considerably strong. This function is linked to the parking light. When the parking light or the headlight is turned on, SEEK and SCAN may not function for weak signals.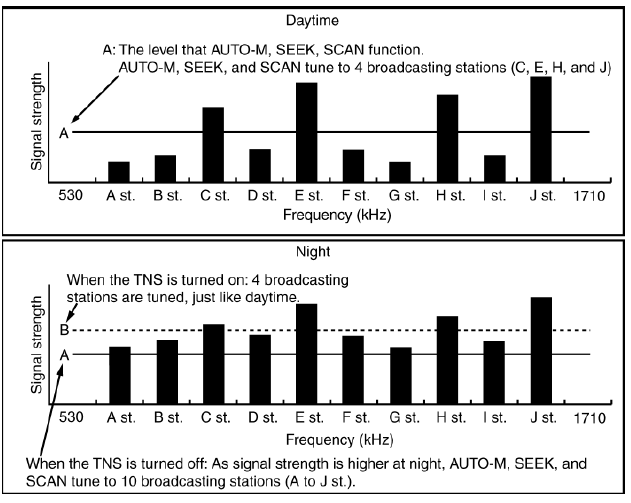 SYMPTOM TROUBLESHOOTING CHART [IMMOBILIZER SYSTEM]

NO.1 THE SECURITY LIGHT DISPLAY IS NOT NORMAL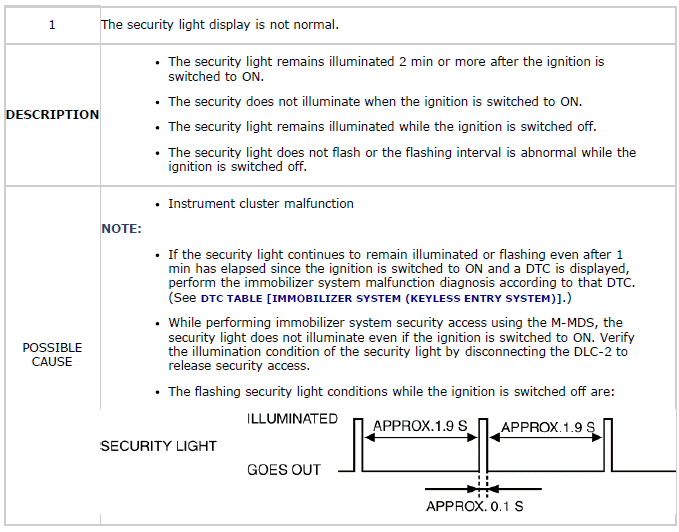 NOTE:
Normal operation of the security light is as follows. The light starts flashing every 2 s when the ignition is switched from ON to ACC and the immobilizer system is armed. The light stops flashing when the ignition is switched to ON with the correct ignition key. At this time, the immobilizer system is disarmed and the security light illuminates for about 3 s and then goes out.
Diagnostic procedure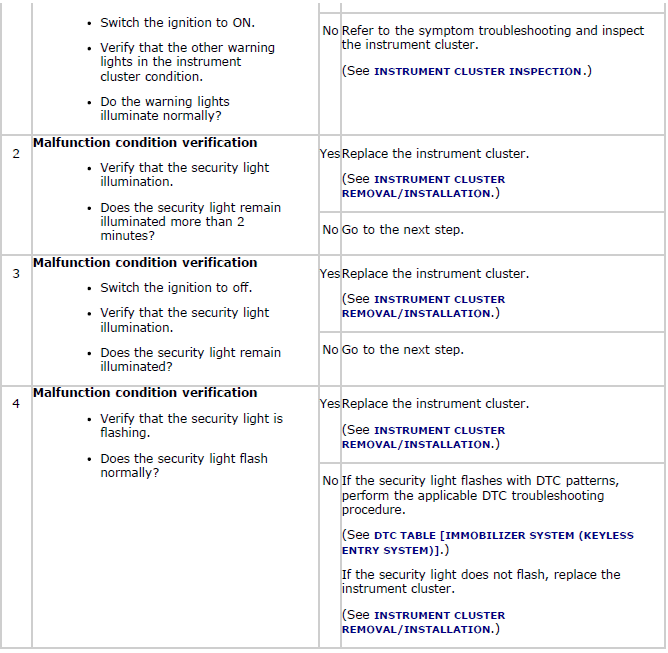 READ NEXT:
Troubleshooting Index NO.1 CD PLAYER DOES NOT LOAD THE CD OR EJECTS THE CD IMMEDIATELY Diagnostic procedure NO.2 CD PLAYER DOES NOT EJECT THE CD Diagnostic procedure NO.3 CD PLAYER DOES NOT P
The CD player has been designed to play CDs bearing the identification logo, COMPACT DISC DIGITAL AUDIO, as shown. No other discs can be played on the CD player other than MP3/WMA applicable o
BODY PANELS LOCATION INDEX Hood (See HOOD REMOVAL/INSTALLATION.) (See HOOD ADJUSTMENT.) Cowl panel (See COWL PANEL REMOVAL/INSTALLATION.) Fuel-filler lid (See FUEL-FILLER LID REMO
SEE MORE:
HEAT DUCT COMPONENT REMOVAL/INSTALLATION Heat Duct (LH) 1. Disconnect the negative battery cable. 2. Remove the following parts: Rear console (See REAR CONSOLE REMOVAL/INSTALLATION). Shift lever knob (MTX) (See MANUAL TRANSAXLE SHIFT MECHANISM REMOVAL/INSTALLATION). Side wall (See SIDE WALL R
ENGINE COOLANT TEMPERATURE (ECT) SENSOR REMOVAL/INSTALLATION WARNING: When the engine is hot, it can badly burn. Turn off the engine and wait until it is cool before removing the ECT sensor. ECT Sensor No.1 Removal/Installation 1. Disconnect the negative battery cable. 2. Drain the engine coo
© 2016-2023 Copyright www.ma2auto.com