Mazda 2: Master Cylinder
MASTER CYLINDER REMOVAL/INSTALLATION
CAUTION:
1. Remove the battery. (See BATTERY REMOVAL/INSTALLATION).
2. Remove in the order indicated in the table.
3. Install in the reverse order of removal.
4. Add brake fluid, bleed the brakes, and inspect for leakage after the installation has been completed. (See BRAKE FLUID AIR BLEEDING).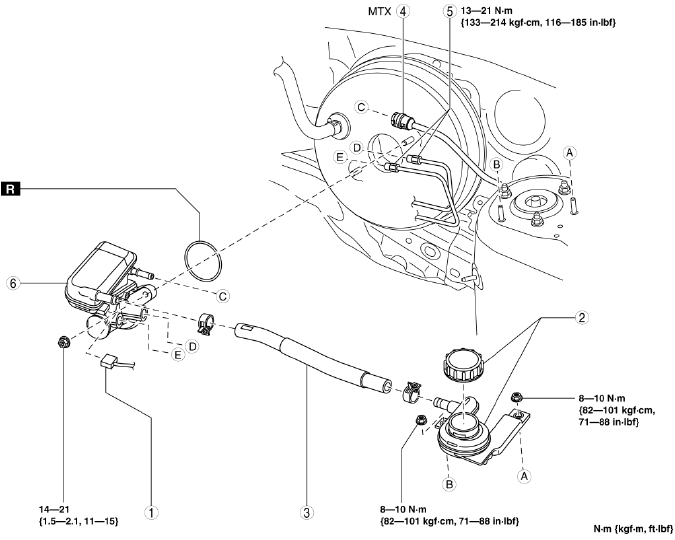 Brake fluid level sensor connector
No.2 reserve tank, cap
Reserve tank hose
Reserve tank hose (MTX)
Brake pipe
Master cylinder component
Reserve Tank Hose Removal Note
1. Move the clip upward.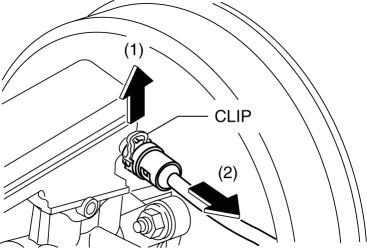 2. Disconnect the reserve tank hose.
Reserve Tank Hose Installation Note
1. Press the clip in after the reserve hose is inserted completely.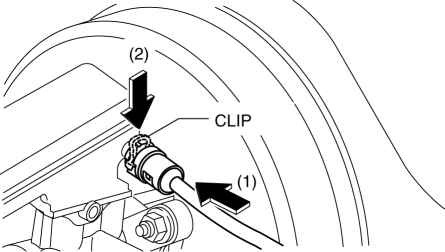 2. Verify that the reserve tank hose is securely installed by pulling it, and reinsert into the reserve tank.
BRAKE FLUID LEVEL SENSOR INSPECTION
1. Disconnect the connector from the brake fluid level sensor.
2. Inspect for continuity between the brake fluid level sensor terminals.
If not as indicated in the table, replace the Master cylinder component.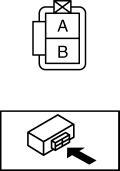 READ NEXT:
POWER BRAKE UNIT INSPECTION NOTE: The following inspection methods are simple inspection methods to judge the function of the power brake unit. If there is any malfunction in the power brake uni
FRONT BRAKE (DISC) REMOVAL/INSTALLATION 1. Remove in the order indicated in the table. 2. Install in the reverse order of removal. 3. Add brake fluid, bleed the brakes, and inspect for leakage after
BRAKE HOSE (FRONT) REMOVAL/INSTALLATION 1. Remove in the order indicated in the table. 2. Install in the reverse order of removal. 3. Add brake fluid, bleed the brakes, and inspect for leakage after
SEE MORE:
System Malfunction Location Detection Condition WARNING: Detection conditions are for understanding the DTC outline before performing an inspection. Performing an inspection according to only the detection conditions may cause injury due to an operating error, or damage the system. When p
DSC LOCATION INDEX DSC HU/CM (See DSC SYSTEM WIRING DIAGRAM.) (See DSC SYSTEM INSPECTION.) (See DSC HU/CM REMOVAL/INSTALLATION.) (See DSC HU/CM INSPECTION.) Brake fluid pressure sensor (Built into DSC HU/CM) (See BRAKE FLUID PRESSURE SENSOR INSPECTION.) (See DSC SENSOR INITIALIZ
© 2016-2023 Copyright www.ma2auto.com